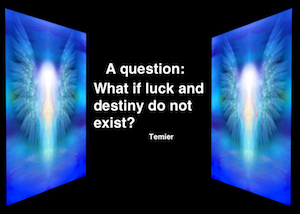 Temier's answer:
Then by exercising free will choice you take absolute responsibility for your life.

Join the Life Path Meetings for Temier's perspective.
An ongoing series of short meetings that are led by Temier. Topics are covered that help you to understand your life path. Practical techniques are introduced that are designed to keep you balanced and on track. The meetings are great for beginners or advanced metaphysicians.
In these *free* web gatherings, Temier will lead us in powerful yet gentle meditations, that will help us individually and also ease world tensions. They have been very helpful. We will indeed join forces with all those of like mind to help heal ourselves and the world.
A Life Path Signet helps you walk your path through life in balance with your greatest goals and the world around you. Temier provides the symbolism through his ability to reach all levels of consciousness and by his understanding of your unique nature.
Sam and the Seraphim Temier working together in a merged state, provide a bridge between the high vibration of the spiritual world, and the full understanding of the physical world.
The wisdom and information made available by Sam and Temier is extremely precious, both in content as well as through the purity of the process through which it is received. They are to be used with the utmost respect.
Needless to say these materials, including recordings and written information are copyrighted by Sam and Temier and are for your personal use only. Please contact Sam if you wish to use them for any other reason, including passing them on to others.